The actor has long been an avid fan of interior design and flipping houses
Diane Keaton's love for
real estate
began early. In a 2017 interview with
Wine Spectator
,
she spoke of how she used to follow her father, who was a real estate agent, around to open houses in Los Angeles, learning vicariously through him. Later in life she would translate this fascination with architecture and decor into an obsession with buying and selling homes throughout the country—particularly historic ones, including an L.A. home by
Lloyd Wright in Los Feliz
.
"I always had an interest in homes and the concept of home, but the problem is I never really land and stay. Something's wrong," she told
Wine Spectator.
She then added, "But something's right, because I love it." Here we look back at some of Keaton's most memorable properties, including
the "dream home" where she currently resides
in her sunny hometown of L.A.
1976
Keaton's big break came in the late 1970s when she starred as the free-spirited titular character in Woody Allen's iconic flick
Annie Hall
. Shortly after, at 30 years old, she purchased her first property, a full-floor apartment in the San Remo, a famed 1930s Beaux Arts landmark on New York City's Upper West Side. It's unclear how much the actor paid for the three-bedroom pad at the time, but, according to Keaton, it was the perfect place to launch her budding career. "It was one of those remarkable apartments," she said in the
Wine Spectator
interview. "There was a window on every side. Everything was wide open. That was the beginning of my true interest in architecture." The co-op, located on the west side of Central Park, was accessible via a private elevator and featured a wood-paneled library, a coffered ceiling living room, and a kitchen with a black-and-white-patterned tile floor.
Keaton's starter apartment was listed
for $17.5 million in 2018.
1991
Eventually Keaton yearned for a return to the west coast. She
snapped up Lloyd Wright's historic Samuel-Novarro house
with ambitions to renovate the unique space and flip it back onto the market. Though it's unclear how much Keaton paid for the Mayan-themed Art Deco house, what is known is the home's pedigree. Commissioned back in 1928 by
Ben Hur
star Ramón Novarro, the 2,700-square-foot, four-floor property is built into a cliffside, with multilevel terraces, a pergola, and a private, walled swimming terrace. Keaton remodeled the home, making sure to maintain Wright's trademark touches—oxidized copper trim on the exterior, for instance—and sold it five years later. More than a decade after that, a contractor tasked with restoring the home reached out to Keaton for advice and told
AD,
"She told me to go slow, don't treat it like any other renovation, and don't change any more than you have to; keep the integrity of the house and the way Wright intended it to be."
It hit the market for $4.295 million
in early 2019.
2002
The actor's next purchase was directly influenced by her childhood, during which she would watch her father skin-dive off Palos Verdes. She told
AD
that she thought often of
the "graciousness" of the Spanish Colonial houses
that dotted the area, and so she set her sights on a Spanish Colonial Revival–style property in the middle of Bel-Air, which she snapped up for an undisclosed amount—even though longtime pal and designer Stephen Shadley warned her that it would be "a lot of work." The gated home was originally designed by architects Wallace Neff and John Byers in the 1920s, but it had been refashioned so much over the years that it had arguably lost its original Spanish Colonial charm. "Diane prepared for this as for a film,"
Shadley told AD
,
"collecting photos, visual images, ideas in a loose-leaf binder, subdivided by room, that we constantly referred to." Keaton eventually sold the seven-bedroom, nine-bathroom pad
for $16.5 million in 2005
.
2004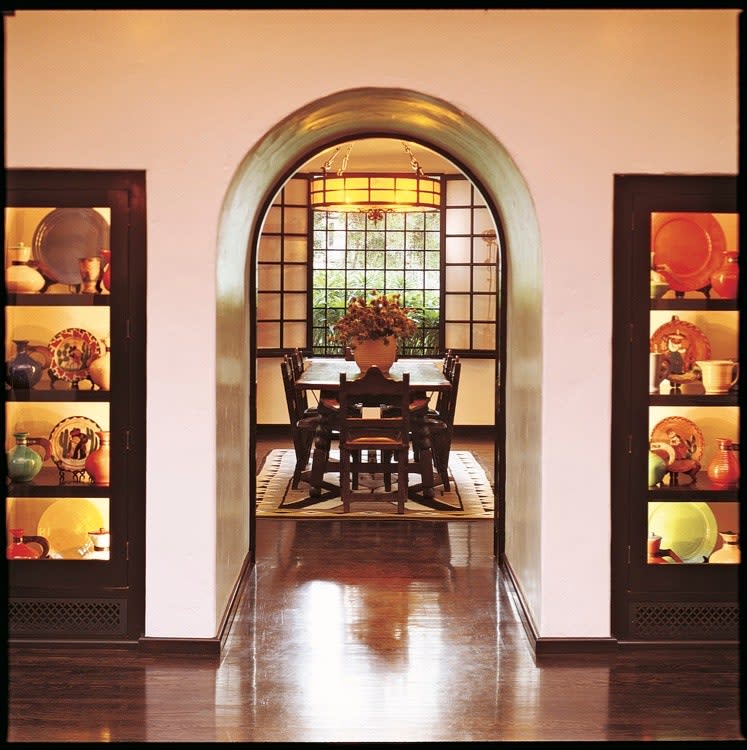 The
Godfather
actor turned her sights toward the sea for her next home, snapping up a historic $7.5 million mansion perched on a bluff in Laguna Beach. Built in 1928, the Mediterranean-style house was originally constructed for the J. Roy Smith orange tree groves family. It featured Spanish tile, wood beams, ironwork, and incomparable views of the Pacific Oceans. Keaton worked her magic on the four-bedroom, six-bathroom home over the next two years, restoring its original details before flipping it back onto the market for $12.75 million. It is unclear how much it ultimately sold for, but
the 4,158-square-foot property resurfaced on the market
more than a decade later for $15 million.
2007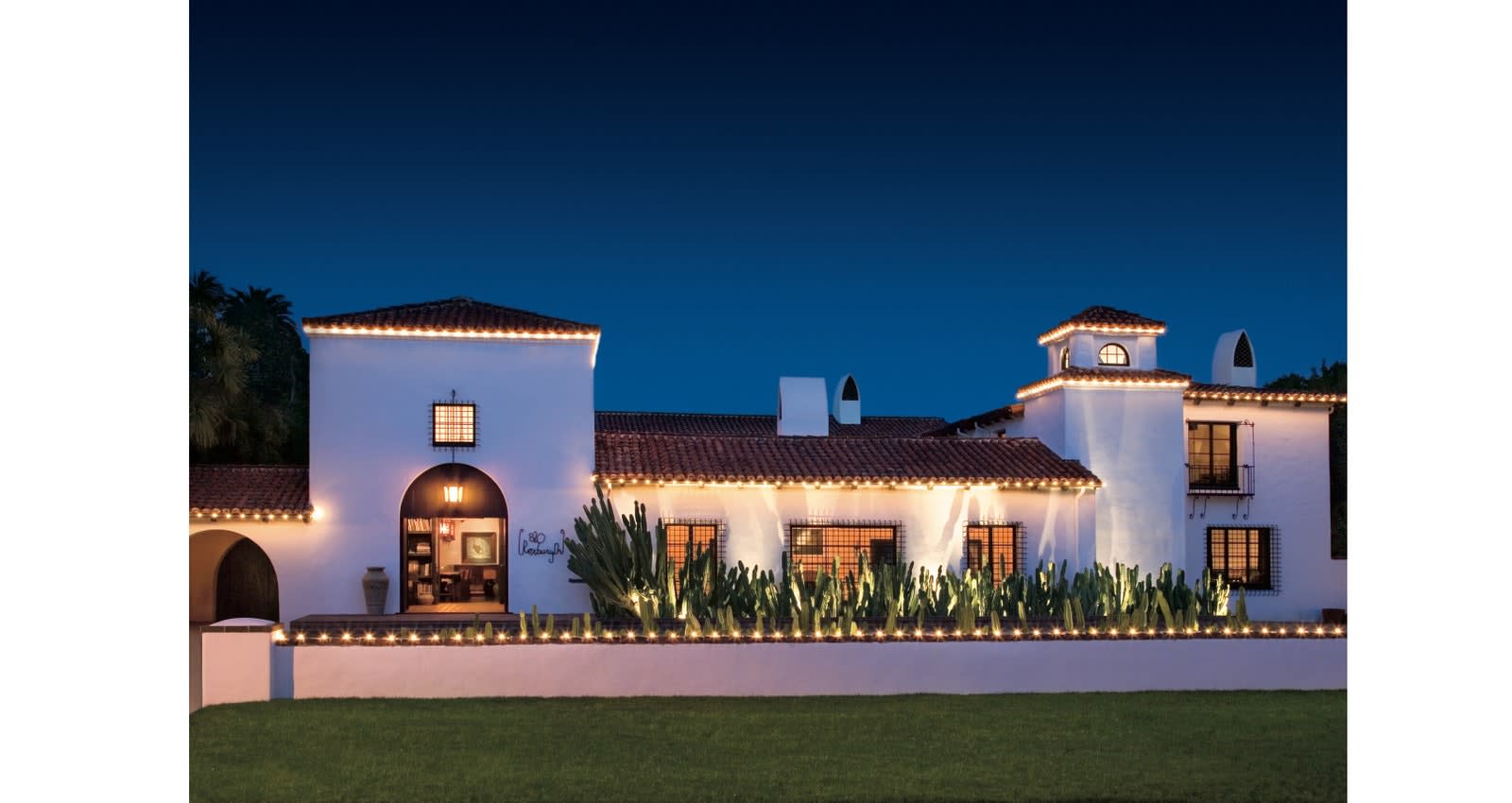 Keaton next looked to add to her real estate portfolio with a stunning Beverly Hills Spanish Colonial Revival structured around a two-story courtyard with a fountain. Originally built in 1927 by California architect Ralph Flewelling, the abode was meant to mimic the architectural aesthetic of the likes of Wallace Neff and George Washington Smith. Keaton got cold feet and backed out of the purchase. ("It needed a lot of work,"
she told AD
.) When it came up for sale again several years later, however, she shelled out $8.1 million for the property. She and designer friend Shadley then worked together to renovate the home, redoing the kitchen,
remodeling the facade
, and adding about 500 square feet. She sold the place to
Glee
creator Ryan Murphy for an undisclosed amount in 2010.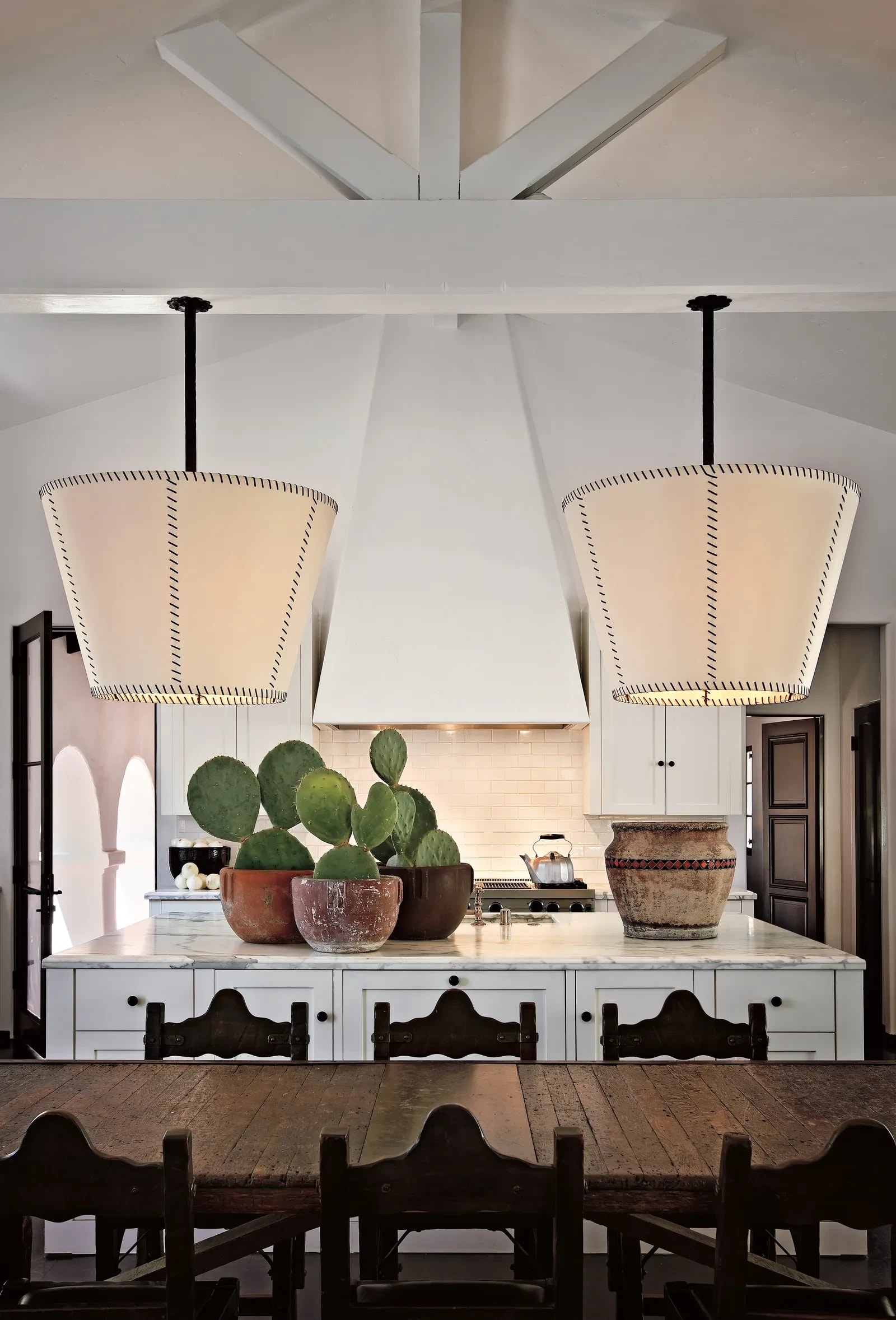 Also in 2007, Keaton picked up a home known as the Alfred Newman House, which was also designed by Frank Lloyd Wright's son. Set on 1.4 acres in the Rustic Canyon area of the Pacific Palisades, the 4,386-square-foot midcentury-modern dwelling boasted five bedrooms and four bathrooms, with
brick and concrete interior accents
. Keaton updated the kitchen, restored the woodwork and built-in furniture, and converted the second floor into a primary-suite space with glass walls. Her time and investment paid off—though she purchased the estate for $9.1 million, she sold it for $10.75 million just two years later.
2012
One of Keaton's more unexpected real estate purchases was a Cape Cod–style home in the Pacific Palisades (given her penchant for colorful tile and warm, Spanish Colonial aesthetics). The actor paid $5.6 million for the relatively new pad, which was completed in 2009. It featured all the trappings of a celebrity oasis—a home theater, a gym, two wet bars, a wine room, and a rooftop deck facing the ocean—with six bedrooms and nine bathrooms spread across three levels. Out back there was an outdoor living room with its own fireplace, a swimming pool, and a spa. Keaton
made a few cosmetic changes
and listed the home for $6.995 million in 2015.
2017
A few years later Keaton began what would become perhaps one of her biggest architectural endeavors. She
designed and built her current residence
, the eponymous house at the center of her third book,
The House That Pinterest Built
. Situated in Sullivan Canyon, the home measures 8,000 square feet and is quite literally the amalgamation of inspirational photos Keaton collected over the years. "I follow my impulses just like I did with acting," she told
AD
about piecing together the light-filled, industrial feel she so loves. "I fell in love with the bricks, and I fell in love with the mortar. I wanted to have space between the bricks so they could have a life of their own."
2018
Keaton's next project took her to the desert. The Oscar winner picked up a historic Barrio Viejo home in Tucson, Arizona, for $1.5 million. The structure, originally built in the late 19th century, was the perfect canvas on which Keaton could leave her mark—according to reports, she upgraded the kitchen, added oversized light fixtures in the exposed wood-beam living room, and added a swimming pool to the backyard. She even added a roughly 20-foot water tower and a detached cabana. The actor likely wasn't looking to make a long-term investment in the area, however, as
she flipped the property
right back onto the market for $2.6 million in 2020 amid the pandemic.