The verdict is in: Cozy fabrics, warm, earthy tones, vintage pieces and private spaces are taking over the fall design scene. At the start of 2020, many were forced to reconfigure our homes into multi-multi-functional spaces that could accommodate the needs of working parents and home-schooled children. However, the novelty of 'work from home' has worn off, and we've all had a year and a half to adjust to the new normal (oh, what we would give to never use that phrase again). As a result, the trends we're seeing for fall 2021 reflect more permanent changes we've made to our homes as a reaction to the pandemic. The central theme? Comfort, convenience and color. Here, find seven trends that designers predict will be huge for the upcoming season (and two that are to be avoided as we head into 2022).
1. In: Warm, Earthy Neutrals
"I think anything with a more earthy and neutral tone is perfect to set the stage for fall," says Designer
Amanda Evans
. Back in September 2020, Behr predicted that
Muted Terracotta
would be huge this year (and saying they were right would be a vast understatement). It seems as if the terracotta trend has burgeoned into an entire fall color scheme, composed of warm, earthy tones that basically personify the image of
curling up to the fire
. "Sandstone is great for adding a more warm and cozy feel to the home, but is also great all year-round. A radiant autumn orange or Amberglow also creates warmth and blends well with other neutral tones like gray and sand tones," Evan explains. And don't even get us started on the cozy, comfy textures we're seeing accompany this look (see: number three).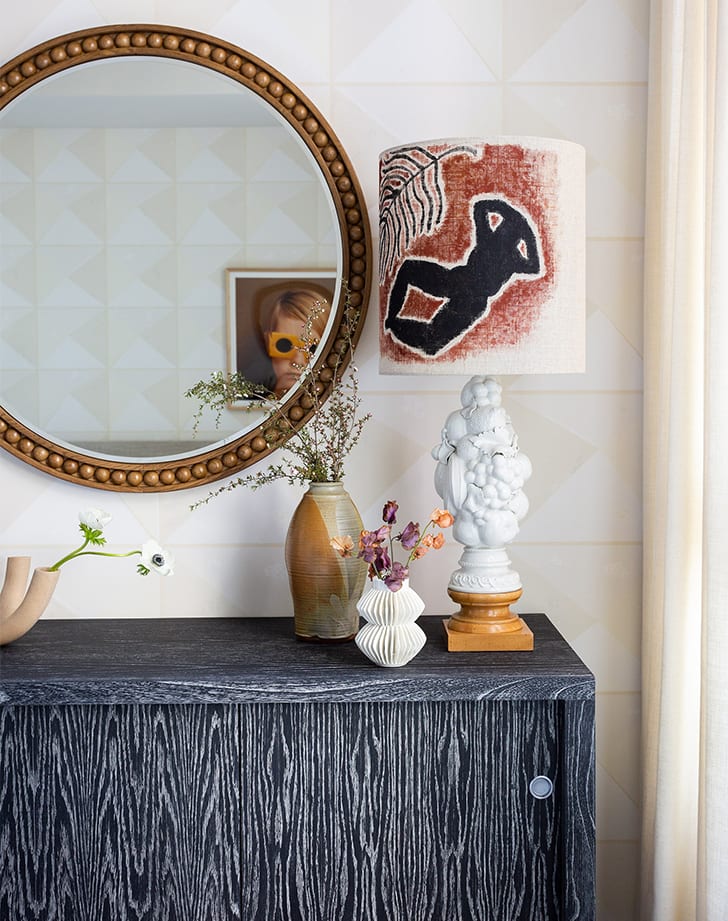 2. In: Bespoke Furnishings and Vintage Decor
Between the
cottagecore
and
eclectic modern
design trends, this one should come as no surprise: vintage, bespoke and personalized homewares are all the rage for fall 2021. "I think the pandemic prompted a need to make our spaces not only more functional, but more personal," says Brittany Farinas, Designer of
House of One
. And she's right; in times of uncertainty and chaos, we like to find comfort in the things we know. For some, that means breaking out their grandmother's set of
colored glassware
from the '40s. For others, dusting off old picture frames, candlesticks, vases or even pieces of furniture can bring a sense of security from the past. Plus, we've all picked up a hobby or two during lockdown (
birdwatchers
and
rage gardeners
, we're looking at you), and we want our homes to reflect our unique, post-pandemic interests. "Antique furnishings mixed with more contemporary pieces and a little whimsy go a long way to keep the look from getting too referential," adds Designer
Killy Scheer
.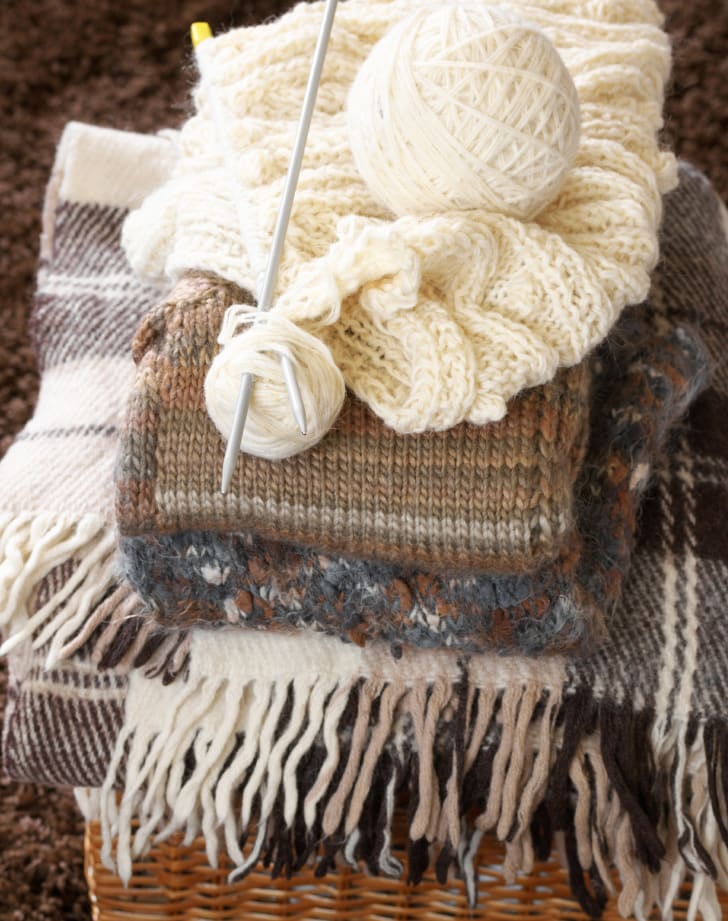 3. In: Cozy Fabrics and Natural Textures
There's one trend that every designer seems to agree on (and we're not mad about it): ultra-soft fabrics and natural textures. "I see clients being drawn more to a relaxed feel in their home- something sophisticated and chic but still cozy," says Brittany Peltz, Designer and founder of
SENA Lifestyle Studio
. Similarly, designer and stylist Lauren Meichtry of
Elsie Home
says, "There's a big focus on texture and boucle, Sherpa and other furry fabrics bring warmth without the need for color. This makes decorating super simple, as you can add it to your existing decor for a quick, cozy change." Evans agrees, and explains: "to get that 'cozy at home' feel, consider adding accent pieces like woven poufs, or wool blankets to your couch to cozy up with on those cooler days. Also, creating a special nook somewhere in your home can bring you joy you never thought of! For example, making a window seat more warm and inviting with sweater pillows or a flannel throw can set the tone for fall and give you the perfect place to cozy up with a good book."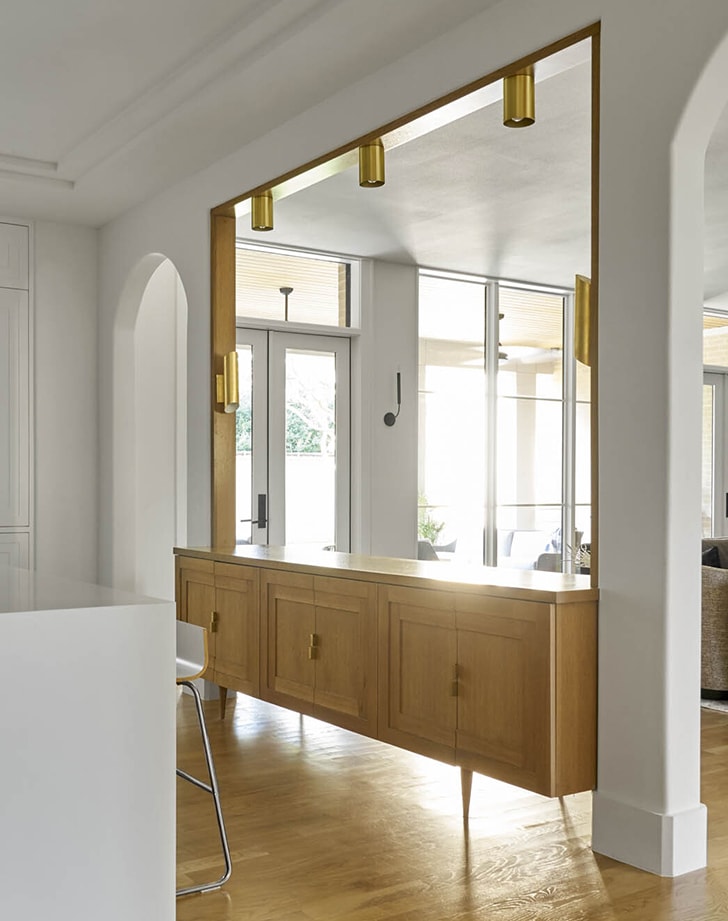 4. In: Partitions and Room Dividers
It's no secret that the pandemic has created a seismic shift in the way we view our homes. Rooms that were previously "for guests only" have been transformed into homework stations, and linen closets have become secret hideaways for parents who need "just five minutes" of peace (hang in there everyone, we can almost smell the September freedom). Nevertheless, one thing is for certain: The need for privacy and solitude has become paramount in our homes (but the need to make sure our children aren't setting the house on fire is equally important). As a result, we're seeing a resurgence of midcentury modern room dividers that allow for the kind of "hands-on privacy" parents are looking for. "We are seeing a push for some separation [while] keeping sight lines to the adjacent rooms. One solution we have incorporated is decorative partition screens. We have also incorporated serving counters to act as definition between the kitchen and living space," explains Eddie Maestri, Principal Architect at
Maestri Studio
.
5. In: Urbane Cottage Kitchens
First, there was cottagecore, then there was
cabincore
and now, may we present: kitchencore. While cottagecore's aesthetic brings more of the "frolicking in a meadow field" vibe, cabincore maintains that English countryside theme with a more rustic feel. As a result, we're seeing a crossover between both whimsical looks in our kitchens for fall. "The days of the white shaker kitchen might be in the rearview mirror, thankfully. Kitchens are still the hub of the house, but now people are taking a less sterile approach… Dark palettes, stained woods, countertop stone with depth and movement, and statement fixtures and hardware are not just more exciting but they're also more durable and mess-friendly than their white counterparts," explains Scheer. She also predicts that integrating our kitchen with the rest of the home through "natural materials—cabinets with visible wood grain, interesting countertops, faucets that blend into the counters, and other finishes, rather than stand-out features (think black counters, black faucet)," will be huge in 2022.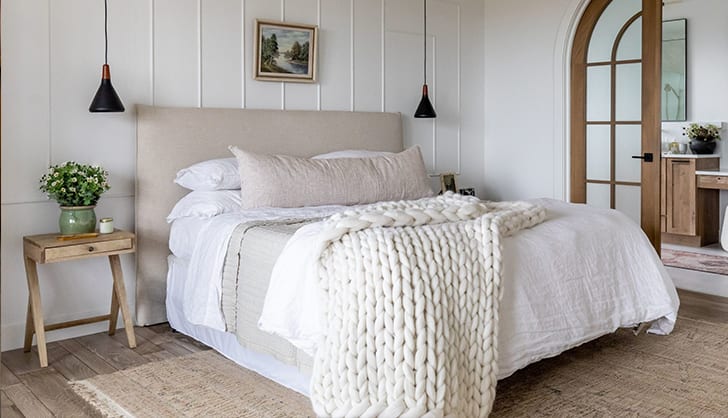 6. In: Layered Bedrooms
While bedrooms and bed linens should always be synonymous with the terms "cozy" and "comfortable," we're seeing the snuggle levels cranked up even higher for fall. Designers are looking to bring layers of comfort throughout the entire bedroom this season—and it doesn't stop with a set of
gauzy percale sheets
. "Think linen, rattan, an authentic Moroccan shag with warm touches of color brought in by accessories and throws. This trend can go light or dark, depending on the mood of the space and home," explains Peltz. When it comes to styling this look, try "layering curtains and shades, if you have a highly patterned rug that's a bit too small, add a larger seagrass or neutral under it for instant layering, and adding architectural details, like paneling. For extra punch, add wallpaper above a chair rail," says Scheer.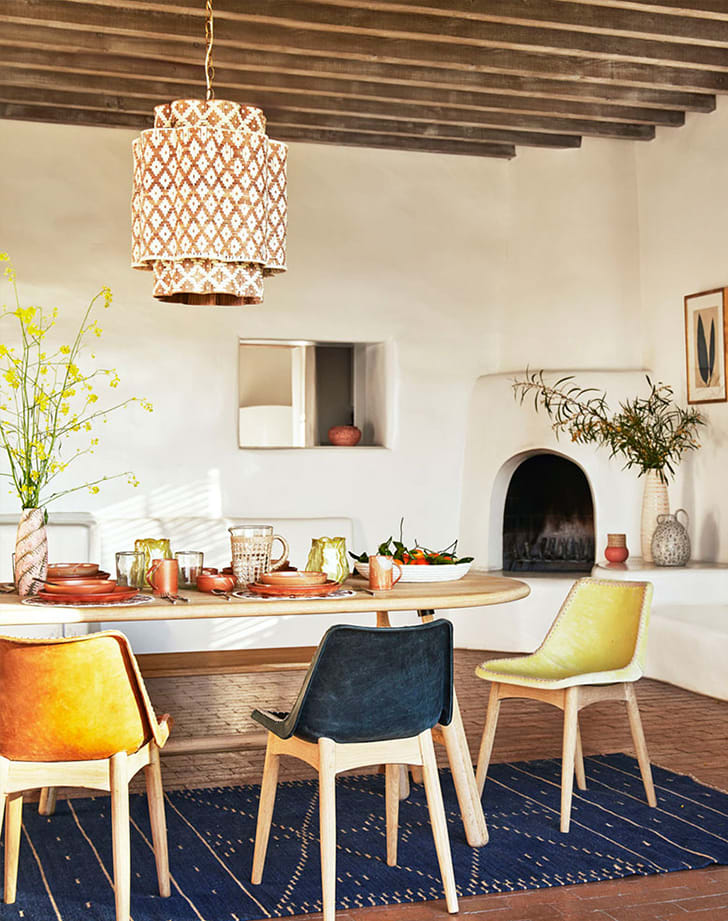 7. In: Bringing the Outdoors in
Last but not least, it's the trend that ties everything together: bringing the outdoors in. "Covid taught us a lot about how much better life is when we take the time to sit outside…Even though we can move around more freely, I think the indoor-outdoor connection is here to stay," Scheer says. However, the term doesn't quite mean you have to turn your home into a greenhouse. "Bringing nature in doesn't have to be so literal (read: getting a million plants)—it can mean switching to natural fibers in furnishings (rattan, cane, wicker, wood), fabrics (wool, linen, cotton) and maximizing natural light," Scheer explains.
Furthermore, in addition to bringing in natural fibers, Farinas has seen an uptick in chinoiserie being incorporated into design, which is a
European interpretation of Asian decorative arts
and often includes floral motifs and nature-inspired scenes. You can see it most often in wallpaper panels and ceramics. All that said, don't get us wrong: We're all for adding in
house plants
too. But this trend is more about bringing outdoor elements inside through furnishings, textures and patterns inspired by nature.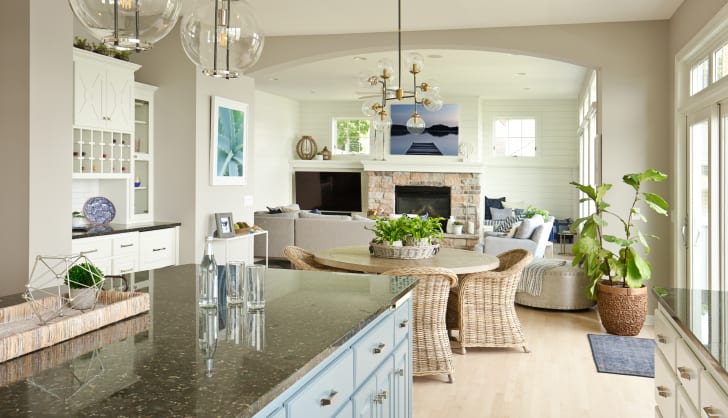 8. Out: Open Floor Plans
We hate to see this one go, but unfortunately, the open floor plan is proving to be less functional as we head into 2021's fall season. "The open kitchen/living room concept is definitely out. With most of us spending a lot more time at home over the past year and a half, we have realized that the open concept may be great for entertaining, but not so much for living…especially if you have small kids," Maestri explains.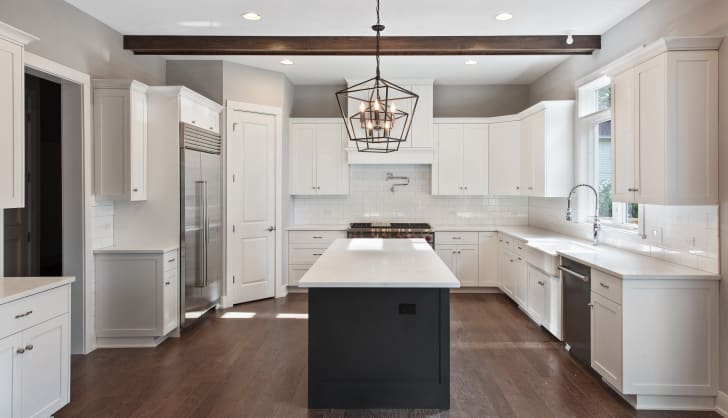 9. Out: Modern Farmhouse
While at one point, the modern farmhouse was a trend that many of us were eager to jump on, we're totally behind what's taking its place in 2021. "The stark black and white/board and batten look with contemporary fittings and furnishings are being replaced with a softer, more traditional (and authentic) farmhouse style reminiscent of English cottages. Designers and architects are turning to local materials like limestone with heavy mortar, reclaimed beams and posts, thatched or slate roofs, Dutch doors, and some stucco mixed in for good measure… Those same materials are being used on the interiors, too, adding natural warmth and texture. Soft plasters are applied to walls, wood beams (some natural, some painted) are installed overhead, and floors come in a range of finishes and thicknesses," Scheer explains.