Take a socially distanced walk around some of these famed Bay Area haunted houses, parks and landmarks this spooky season.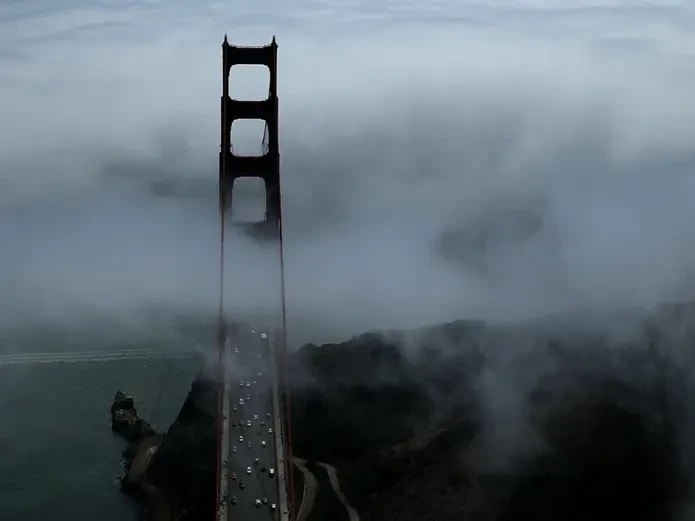 SAN FRANCISCO, CA – SEPTEMBER 08: The north tower of the Golden Gate Bridge is seen surrounded by fog on September 8, 2013 in San Francisco, California. ( Photo by Justin Sullivan/Getty Images)
BAY AREA, CA — Spooky season is still very much alive, despite the COVID-19 pandemic putting a damper on some festivities. Costume parties and trick-or-treating in mass groups might not be such a great idea this year, but taking a socially distanced walk around these Bay Area haunts is relatively safe, from coronavirus anyway — the ghosts however, we can't speak for.
Check out these 10 haunted places around the Bay Area:
1. Claremont Hotel
The Claremont Hotel and Spa is a historic property located in the Claremont District and straddles the city limits of Berkeley and Oakland.
While the hotel that sits there now was constructed in 1915, the original building, a home which early settler William B. Thornburgh called his "castle," burned down in 1901.Subscribe
Since the hotel opened, guests have reported that room 422 is haunted by the ghost of a little girl. Other complaints have included the faint smell of smoke and the distant sounds of a baby crying.
2. The Golden Gate Bridge
Of course, the Golden Gate Bridge would have ghost stories. Since the bridge opened on May 27, 1937,
there have been around 1,600 bodies
recovered from the murky waters below the bridge, and many more unconfirmed.
But the oldest Ghost story of the region is older than the bridge itself. The myth holds that in 1942, the USS Kennison's crew watched a ghost ship sail past them in the night while traveling through the Bay where the bridge resides.
The ship they saw was the SS Tennessee, which sank in 1853 after it became caught in a deadly current, which pulled the ship into jagged rocks in the Golden Gate Straights.
Since the bridge was built, many have reported screams in the mist. So take a walk along the bridge tonight, maybe you'll spot the phantom ship.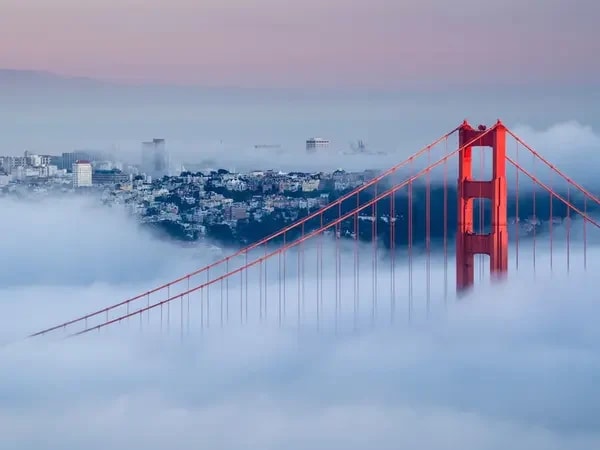 (Shutterstock)
The historic Haskell house, located at the corner of Franklin Street and McDowell Avenue in Fort Mason, has a long history of ghoulish sights. It's where U.S. Senator David Broderick was shot in a planned duel over a political disagreement with State Supreme Court Justice David Terry on Sept. 12 1859.
The duel sent Broderick limping back into the Haskell house, where he died of his gunshot wounds days later. But legend has it, Broderick continues to wander the home.
Many of whom dared to sleep in this house have said they felt a presence of some sort, especially in the kitchen.
Dare to take a stroll by this house, and you might see Broderick's figure, pacing by the window in his top hat.
4. Presidio Officers' Club
There are a handful of ghostly tales from the Presidio, first founded as the Spanish Imperial Outpost in 1776 and then converted to a U.S. Army Base in 1846. Now, it's just a big old haunted park.
The Officer's Club, located at 50 Moraga Ave in San Francisco, is perhaps the most famous specter sighting spot, as the show "Ghost Hunters" captured video of a mysterious woman in a long flowing dress, walking through the ballroom.
5. The USS Hornet – Alameda
Many a sailor died on this decommissioned Navy aircraft carrier, which holds a record for onboard suicides, according to multiple sources. The USS Hornet, currently docked in Alameda, was commissioned in 1943 at the height of World War II.
It has been said that it's the vessel's tragic historic that keeps spectral sailors toiling below deck, as if carrying out orders from decades past. Visitors have reported doors opening and closing on their own accord and sensations of being grabbed or pushed in empty rooms.
And fortunately, this historic Navy aircraft carrier is still open for tours on weekends from 10 a.m. to 5 p.m., just bring a mask and remember to follow social distancing guidelines. Ordinarily the ship hosts a Monster's Bash on Halloween, but the celebration was cancelled this year.
Organizers will host a virtual ghost hunt instead
.
6. Alcatraz Island
Arguably one of the most famous haunts in the Bay Area, Alcatraz Island and its eerily abandoned prison cells hold history that apparently lingers still today. Although there's been some discrepancy over whether prisoners were actually executed there, many visitors have reported rattling chains, cell doors swinging open and a ghostly draft.
The spooky jailhouse island reopened in August after months of closure and is now welcoming visitors for outdoor visits only. Find tickets and visitor information
here
.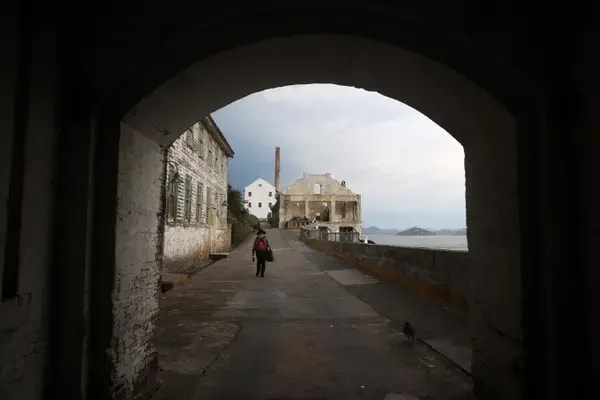 SAN FRANCISCO, CALIFORNIA – AUGUST 17: A National Park Service walks towards the officer's club at Alcatraz Island on August 17, 2020 in San Francisco, California. Alcatraz Island opened to the public for the first time since the coronavirus COVID-19 pandemic shut down the tourist attraction. 750 visitors will be allowed per day to visit the outside portions of the former federal penitentiary and social distancing measures are in place for visitor safety. (Justin Sullivan/Getty Images)
7. Joaquin Miller Park – Oakland
Pass by Joaquin Miller Park sometime and listen for the sound of a phantom whisper, or perhaps even the shadowy figure of a woman wandering through the trees.
Supposedly, the woman visitors have sighted over the years was killed one foggy night in a roadside accident near the park. It has been said that before her death, she set up a hut somewhere on the grounds of the park to live. Whether she was homeless or camping is still unknown. Visitors have tried to find this rumored hut but so far, no one has located it.
The other ghoulish culprit could be Joaquin Miller himself, considering that he died in his house on the same grounds.
8. Whittier Mansion – San Francisco
The Whittier Mansion, built in 1896 is rich with California history and was among the first luxury homes built in San Francisco's early days. The home once belonged to William Franklin Whittier, a prominent pioneer in the railroad and shipping industries.
While the structure certainly looks as though it could be haunted, passersby have witnessed shadowy figures looming in the windows at night.
Visitors of the home have reported sightings of several specters inside and out of the house. A ghostly man has repeatedly been spotted down in the wine cellar. And rumor has it that Whittier, an avid wino, haunts the cellar himself.
9. Redwood Road – Castro Valley
What's creepier than a haunted playground? Urban legend has it that children murdered in Castro Valley often congregate around the swings at the site of an old preschool at the end of Redwood Road.
Supposedly, in the early 1980s, a man with a knife killed all the kids at the preschool. But the building no longer remains, just the swings. Look out for swings jostling on their own when you pay this creepy location a visit.
10. Mountain View Cemetery – Oakland
Perhaps one of the most chilling unsolved murders of California history is actress Elizabeth Short's case, known as "The Black Dahlia." She was laid to rest in Oakland at Mountain View Cemetery, but Short's body was found in Los Angeles. She was found severed in half, scrubbed clean and drained of her blood in 1947.
And short isn't the only rumored specter inhabiting Mountain View Cemetery; over 500 people are buried in a mass unmarked grave near the entrance. "Stranger's Hill" is the place where Alameda County officials allegedly buried criminals, suicide victims and others who died gruesome deaths during
World War I, according to the San Francisco Gate.